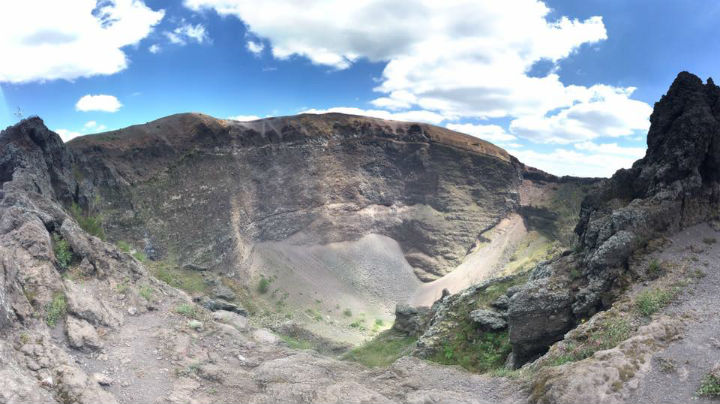 From 21/08/2021 to 20/09/2021
IMPORTANT INFORMATION
You can access the Crater by stamping your ticket at the automatic gates you can find at Piazzale di Quota 1000. You need to stamp your ticket when entering and exiting.
Entry through the automatic gate is allowed from half an hour before to half an hour after the selected time slot.
LATE ARRIVALS WILL NOT BE ALLOWED IN AND THE TICKET VALUE WILL NOT BE REFUNDED.
To use the parking areas serving the visit to the Vesuvius Crater, online booking is required on the website www.parksuvio.it We recommend purchasing the parking ticket before climbing to the top.
Tickets for Pompeii & Mount Vesuvius: Guided Tour from Naples
Planning a history trip to Pompeii and Mount Vesuvius? This guided Pompeii tour from Naples provides a captivating insight into an ancient Roman city and the unstoppable volcano which both preserved and destroyed it.
You'll set out from Naples around 10 am aboard a comfortable, air-conditioned bus equipped with a professional guide who, rather impressively, speaks English, Italian, Spanish, and French.
Your tour of Pompeii will take in some of its most important archaeological sights, like the ancient baths, forum, and even the local brothel, which were all buried in ash back in 79 AD.
After a delicious pizza lunch – included, of course – you'll make your way up 1,000 meters to Vesuvius National Park to learn about the still-active volcano and gaze out upon the Gulf of Naples.
Pompeii & Mount Vesuvius: Guided Tour from Naples >>
---
Vesuvio Exspress
Direct transport from Ercolano to the summit of Vesuvius, find out more >>>

Tickets to Pompeii & Vesuvius: Day trip from Rome
travels from Rome on a comfortable bus and jump the long queue for access to the ancient ruins of Pompeii, find out more >>>
Opening hours (Daily including holidays)
| | |
| --- | --- |
| January-February-November-December: | 09:00 to 15:00 |
| March to October: | 9:00 a.m. to 4:00 p.m. |
| April-May-June-September: | 09:00 to 17:00 |
| July August: | 09:00 to 18:00 |


free admission


The members of the governing bodies and the Vesuvius National Park's personnel;
Personnel of the Vesuvius;
Scholars, researchers and staff of universities, organizations or scientific institutions, research or education, scientific and cultural reasons, upon presentation of the ticket of a request letter on letterhead Ente, Institute, University of belonging;
A No. 1 teacher / accompanist for class of 25 pupils;
A No. 1 tour guide for every 25 tourists;
Representatives of organizations and / or government, for institutional reasons, the ticket upon presentation of a letter of request of the Ente letterhead;
At the height of children less than 1.20 meters must be accompanied by parents or guardians. This exemption does not apply to school visits;
Residents in the municipalities of the community park with a valid identity document on the occasion of the European Day of Parks or other special events of national importance be announced through the press or media;
At Exclusive guides of the Vesuvius National Park;
At 100% invalid using certificates that attest, and to their attendants;
To all those who are accompanied by a written authorization issued Ente Parco for institutional reasons, representation and public interest;
Reporters in the exercise of freedom of the press, upon notice to the Park.
"Mount Vesuvius" by Clarkcj2 is licensed under CC BY-SA 2.0